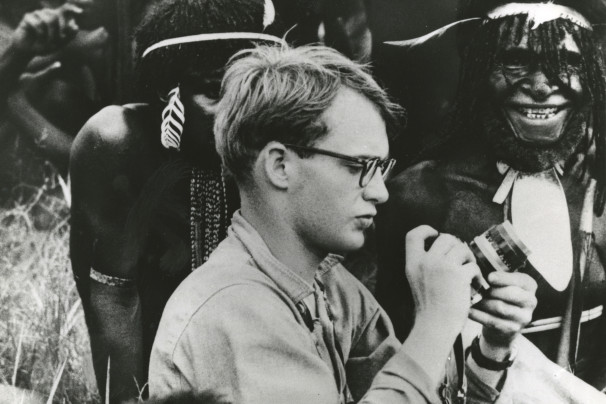 It's 40 years since David Bradbury made his first film Frontline about the legendary Neil Davis.
It was David's first film which he made without any formal training in filmmaking – his application for the first intake of the Australian Film and Radio Television (AFTRS) was rejected. So being who he is, he decided to make a film anyway, and 'show them!'.
He struck it lucky in meeting Neil Davis, a cameraman and journalist during the Vietnam War, who generously gave of himself and his life's experience. Neil's story became a seminal film on the responsibility and moral dilemmas journalists and photographers face in covering frontline action in war.
Over the past four decades, David has done his best to live up to Neil's shining example in showing courage and determination to use the camera to tell the stories from around the world of those who have no voice; those who have no access to the First World's mainstream media and propaganda machine.
David has relentlessly pursued other people's cry for freedom and independence from repressive colonial exploitation and domination. In his film Nicaragua No Pasaran, he exposed the CIA war against the Sandinista revolution.  In Chile Hasta Cuando? he exposed the brutality of Pinochet's dictatorship. In his film about controversial journalist Wilfred Burchett – Public Enemy Number One – Bradbury revealed the horrors of the atomic bomb and the price one pays for going against the conservative mainstream media's narrative of what the world should be.
Other issues David has pointed his camera at to bring a different perspective to the Australian public include East Timor,  Aboriginal cultural alienation and dispossession (State of Shock and Jabiluka), his anti-nuclear films (Blowin' in the Wind, A Hard Rain), anti-war (The Crater), and protecting the environment (Loggerheads, Shoalwater Bay: Up for Grabs, Wamsley's War, Battle for Byron).
For the last three years when he's not been shooting and editing social media stories to protect the rainforest, challenge local development, promote climate strikes and other important issues (see Facebook), David has been developing a three part drama series (a departure from documentary!) on the disappearance of 23 year old Michael Rockefeller in 1961 in what was then Dutch New Guinea.
Michael (in photo) was the son of the very rich and powerful Nelson Rockefeller, then Governor of New York and three times Presidential hopeful who headed up the famous family dynasty whose wealth was and still is, based on oil.
Michael was collecting wood carvings for his father's Museum of Primitive Art when his canoe capsized off the coast of New Guinea and he swam for shore, some seven miles away. Never to be seen alive again.
For the last twelve months, we have been collaborating with a writer (after much research) to develop a treatment. We are nearing a final draft and are now ready to begin the next phase of the project.
Recently we travelled to Papua New Guinea to search for potential locations for some of the Michael Rockefeller scenes. We began developing relationships with people from two villages on the Sepik River and made contact with the local government arts department to advise of our intentions laying the ground for future filming.
FUND THIS FILM
All donations are tax deductible through the Frontline Film Foundation. 
Making films is a financially demanding exercise. We rely on our supporters to help realise these important films.
DONATE NOW
David Bradbury is a national treasure. Sad to hear of his struggle to produce his wonderful work. 
Diana, Pottsville NSW
The Frontline Film Foundation is committed to making environmentally aware and consciousness-raising films. We are a registered charity and rely totally on donations to help independent filmmakers produce high quality films that speak to the times we live in.
These projects are seeking financial support.