Donate to Bradbury's latest film project – Winter in America 
David Bradbury was recently in the US again with his camera rolling in eight cities across America for the making of the sequel to America & Me.
One year into Trump's administration Bradbury reports back – he has never seen American society so explosive.  "This northern summer and the remaining three years of Trump are going to be explosive, potentially similar to the US of the 1960s,' the veteran filmmaker says.
Bradbury filmed and interviewed senior Black Lives Matter activists on Martin Luther King day, anti-war veterans of American's failed wars-of-empire in Vietnam, Iraq and Afghanistan and the building of the Wall on the US/Mexican border where Latino migrants daily are frog marched across and deported in tears. He filmed anti-torture activists outside the White House clad in prison orange jumpsuits with black hoods over their heads demanding the release of 41 Muslim political prisoners still held and tortured at Guantanamo, most of them uncharged and untried. Bradbury's camera rolled as anti-war activists stormed into the Congress office of Democratic Whip Steny Hoyer who supports the Saudi's bombing and torture of students and farmers in Yemen.
Bradbury travelled across America with his 'slingshot' camera and his 14 year old daughter Nakeita. "Nicky was on a sharp learning curve about the world and reality politics being here with me in the US," said David. "She did a mighty job keeping up with the ad hoc filming schedule of protests and marches that I covered. Like a trooper, with stills camera in hand, she got the money shot of poor black women in an overcrowded gaol holding up 'thank you' signs and love hearts from the prison window. On the national Women-Against-Trump march in Chicago, Nicky was in the thick of the action – a real chip off the old block."
David Bradbury has collected stories and interviews with activists that inspire hope that arise out of a dark winter in America. Funds are now needed to bring these stories to light.
Frontline Films has been at the forefront of cutting-edge documentary making for 30 years. David Bradbury is a legendary documentary maker and always fearless to get to the heart of what is happening. Just prior to him leaving for the US, he previewed America and Me to packed out houses.
Frontline Film Foundation supports David's relentless pursuit to BYPASS the FAKE NEWS machines,
HELP GET THE TRUTH OUT with your tax deductible donation.
Target of $50,000 will get doco to screening stage.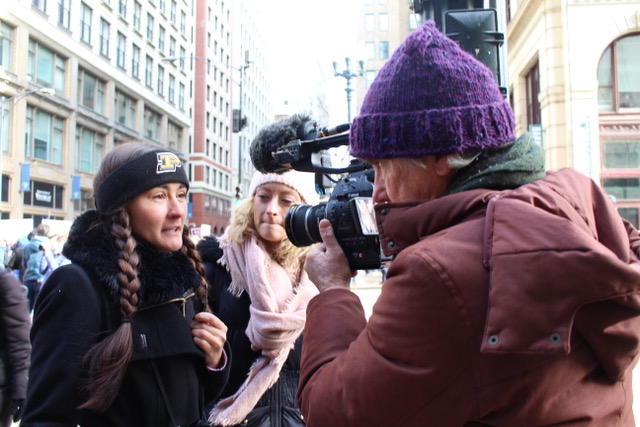 David films 'Rebecca' who explains why she is marching in the streets against regressive and sexist politics of the Trump Administration.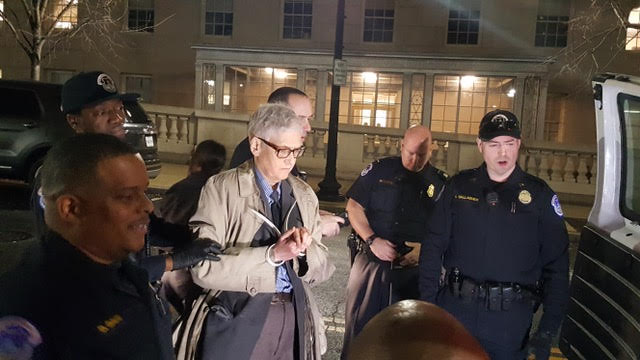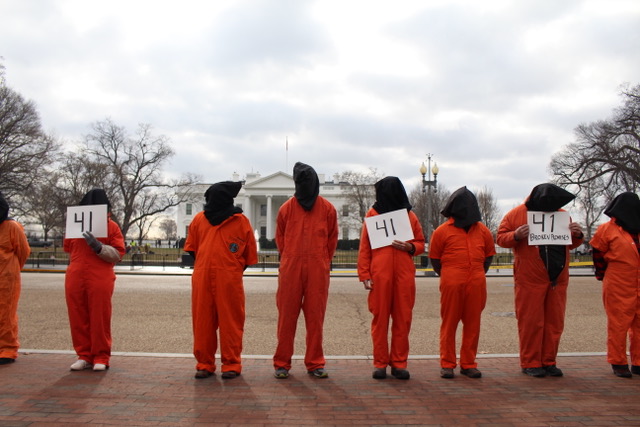 Activists from
Witness Against Torture
line up outside the White House in DC symbolising the 41 Muslim male political prisoners still held at Guantanamo, most without charge.